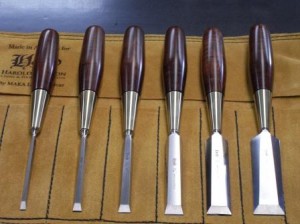 The Ultimax Range is the most popular of our chisels. It features blades made from Cryogenically treated M2 High Speed Steel. These chisels are the premium range with standard timber handles, which are made from exclusive Australian Hardwoods, such as Figured Blackwood, Ringed Gidgee, Highly Figured Jarrah and Tiger Myrtle. Other timbers are available on request.
Sold individually or as a set of 6.
POA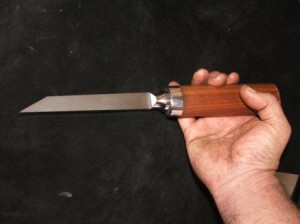 Pigstickers are machined and formed from round bar into HSS, then a deep & narrow pigsticker blade & integral bolster. The only pigsticker in the world with a light weight oval aluminium ferral, it also has standard straight grain light weight Tassie Blackwood, so as not to be handled heavy. It also has a leather shock washer at the striking end, to protect it from mallet blows. Other suitable timbers available on request.
Sizes available 1/8″-3/4″
POA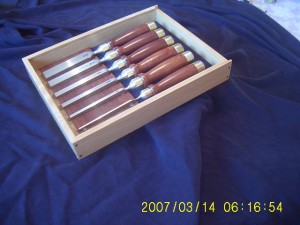 Titan/Inspired Firmer/Mortise Chisel. "Now made with Cryo Treated M2 HSS". Blades with hoops and Ferules, machined from solid brass bar. Standard timber handles are Crows Ash or Jarrah. Other timbers are available on request.
Not sold individually. Only available as a set of 6.
POA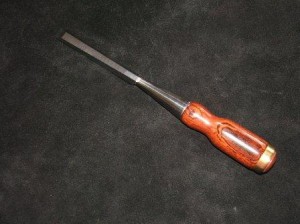 New Cabinet Range  – Coming Soon This chisel was inspired by the slim Titan/Socket cabinet chisel. This features an M2 high speed steel blade as per all of our other chisels. With an integral socket. Rosewood or Cooktown handles with a thick top hoop made from 285 brass. This is capable of with standing medium to heavy blows from a timber mallet or for fine work, ie pairing etc.
POA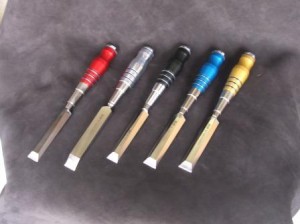 Contractors Chisel.
The contractors chisels blades are cryo treated M2 high speed steel, they are tempered 4 times for toughness and edge retention. The handles are made from aircraft grade aluminium. The socket, through tang and shrinking cap are all made from chrome moly high tensile steel, for strength and durability. The O ring grips are neoprene, its function is of a dual purpose and very important. It helps isolate the handle from hammer blows as well as keeping preload on the handle and socket assembly.
Available sizes are 1/4″-1 1/4″ and 1 1/2″-2″.
POA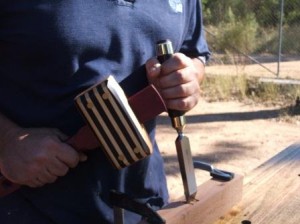 Specialty Mallet Harold & Saxon Specialty Mallet.
Made the same as our standard mallets, however they feature specialty timbers that match the timber chosen for the chisels.
POA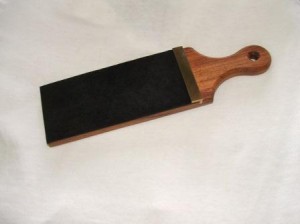 Harold & Saxon Honing Strop
Made from stable hardwood backing and genuine Murray Grey Calf hide leather, fine grained. Ideal for polishing and refining edge after sharpening. Also helps refine and refresh edge between sharpens. Compound not recommended but honing oil is OK.
POA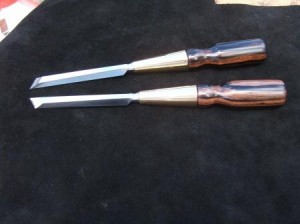 Skews
The skews are made from M2 high bevel edge blades, ground to a skew. They are fitted with small comfortable handles. The skews are 30 degrees (standard), other angles on request.
Sold as a pair.
POA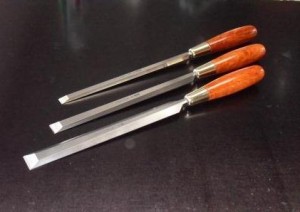 Long Bladed Pairing Chisels.
Available in small batch runs. Very long (Approx 240mm). Flat and thin, precision ground blades made from Cryo treated M2 HSS, are available to achieve lower bevel angels for the ultimate edge. Hollow ground at 20 degrees with a final bevel of 27 degrees. Handles available on request.
Sold individually. Sets available on request.
POA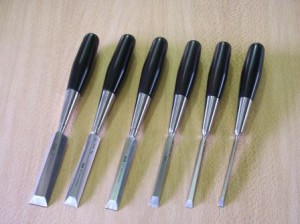 Pro Series Bench Chisel
For discerning buyers who want the very best (A world first). The highest grade Powder Metalurgy HSS formed into our Pro Series Bench Chisel. Cryo treated and triple tempered witha final hardness of 64-66 HRC. These chisels are for the collector and user who demand the best money can buy sockets can be made from either Gold Plated Steel, Stainless Steel ot Titanium. The handles are made from premium exotic timbers such as Ebony, African Blackwood, Rosewood, Pink Ivory and Kingwood.
Sold individually or as a set of 6.
POA
Back to the top